Wheelchair/Scooter Platform Lifts
Bruno Chariot Wheelchair/Scooter Platform Lift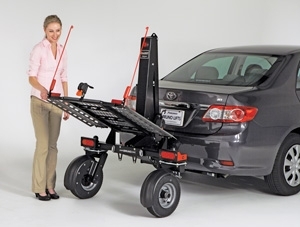 This groundbreaking product lifts and stores your unoccupied scooter or wheelchair (weighing up to 350 lb/160 kg) outside your small, mid-sized, or large car at the touch of a button. Simply roll your mobility device on the platform from either side, hit a button, and let the Chariot do the lifting for you. Self-tensioning retractable belts are included for securement (one hand operation).
Swivel Wheels - the lift follows precisely, even when driving the vehicle in reverse.

Independent Suspension

No jacknifing

Fully Powered - makes lifting and storing your scooter or wheelchair outside your car virtually effortless - one button operation.

350 lb/160 kg lifting capacity.

Safe/Reliable - 3rd party tested: Extreme rough road conditions, laboratory testing and environmental operating extremes.

Drive on/off either side of platform - no reversing necessary.

Platform folds easily using one hand.

Retractable belts are included for securement (one hand operation).

Access rear vehicle hatch simply by lowering lift a bit (most hatchbacks).

Standard lighted license plate holder (for use in some states) and light package, including running and brake lights, turn signals.

Manual backup system

Optional corner markers

Optional spare tire

Can be powered by the vehicle's battery or the optional Brune Pow'rPac (a self-contained power supply that is charged through the vehicle's power port). Allows unit operation even if the vehicle battery is inoperable.

No structural modifications to your vehicle - mounts to your vehicle's class I or class II frame mount receiver hitch (not included).

Can reinstall on your next vehicle

Plugs into vehicle's Flat-4 wiring connector (required).

Works with small, mid-size or large cars.

Up to $1200 us available to help pay for a Chariot Lift through mobility reimbursement programs.
Bruno Valet® Signature Seating complements your Chariot for a total mobility solution.




Please call us for our current wheelchair/handicap van inventory.