Wheelchair/Scooter Inside Lifts


Bruno Curbsider Scooter/Wheelchair Lift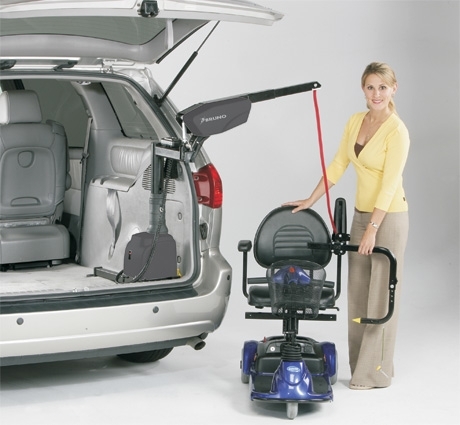 Bruno invented the Curb-Sider style lift and this is the world's most popular vehicle lift (over 80,000 sold). The Curb-Sider lifts and stows your scooter or wheelchair inside your vehicle with the touch of a button. Simply connect the docking device, push a button on the hand-held pendant and let your Curb-Sider do the heavy lifting for you!
Fully powered lifting and rotation - Makes stowing your scooter or wheelchair virtually effortless.

Offset Post Design - Allows Personal Mobility Device to be safely unloaded on the side of the vehicle

Fold-Down Lift Head allows partial third row seating access (where applicable) and improved driver visibility when mobility device is not present (requires optional quick release pins).

Custom docking device for your mobility device in included at no charge.

Hundreds of vehicle-specific Custom Bases are available for a precise installation at no charge.

Optional Exterior Package available.

Powered by the vehicle's battery.

Available for passenger or driver side of vehicle.

No structural modifications to your vehicle - can be easily removed for vehicle resale.

Works with minivans, SUV's, crossovers, pickup trucks and full-size vans.

Bruno Valet® Signature Seating complements your vehicle lift for a totatl mobility solution.
Please call us for our current wheelchair/handicap van inventory.