Outdoor Stairlifts
Harmar SL350OD Outdoor Stairlift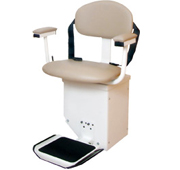 Weather-proofed to withstand the elements. Harmar's Outdoor Stair Lift is engineered with a durable extruded aluminum track and marine-grade vinyl seating to handle rain, wind, snow, and temperatures from 0° to 125° degrees. Includes header, internal chassis, and large weatherproof covers for even more protection.
Weight capacity: 350 lbs (160kg)
Power Source: 115 VAC
Seat Size: 19" W x 14" D x 14" T
Travel Distance: 16 ft standard; available up to 25 ft
Speed: 20 fpm
Incline Limits: 30 – 45 degrees
Drive System: Cable Drive
Track (Rail) Type: Extruded Aluminum
Safety Devices: Limit Switches; Final Limit Switch; Slack Cable Brake w/ Switch; Footrest Obstruction Switch; Swivel Seat Cut-off Switch; Constant Pressure Controls
Warranty: 2-Year on Components
.
Harmar SL350OD Outdoor Stairlift Sell Sheet
Harmar Stairlft Brochure


Please call us for our current wheelchair/handicap van inventory.