Inside Scooter/Wheelchair Lifts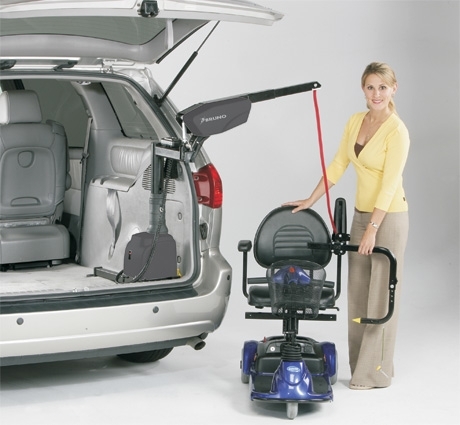 Bruno invented the Curb-Sider style lift and this is the world's most popular vehicle lift (over 80,000 sold). The Curb-Sider lifts and stows your scooter or powerchair inside your vehicle with the touch of a button. Simply connect the docking device, push a button on the hand-held pendant and let your Curb-Sider do the heavy lifting for you!

Learn More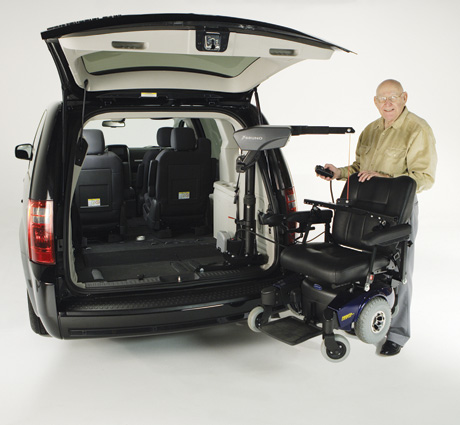 Bruno's Big Lifter (VSL-570) lifts and stores your scooter or powerchair inside your vehicle with the touch of a button. Simply connect the docking device, push a button, and let your Big Lifter do the heavy lifting for you! Once raised to the proper height, manually guide your Personal Mobility Device into the vehicle.

Learn More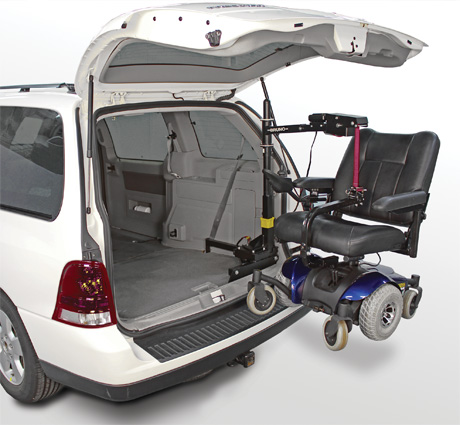 Handy, take-apart lifts let you stow small scooters in your trunk. The Space-Saver lift, meant for smaller vehicle openings, lifts and stores your smaller scooter or travel powerchair into vehicles with the touch of a button. Assemble the lift, connect the docking device, push a button, and let your Space-Saver do the lifting for you!

This lift features a variety of options such as Exterior Mount and Offset Arm, allowing you to more easily position your Personal Mobility Device inside your vehicle.

Learn More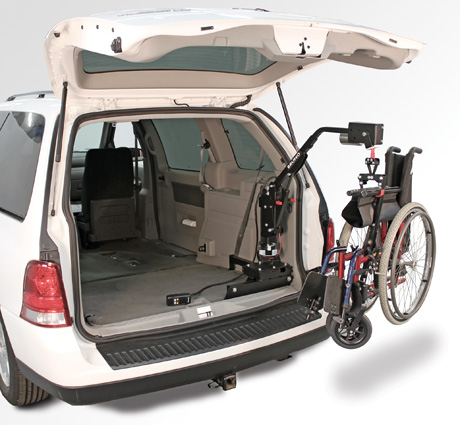 Bruno's Lifter conveniently lifts and stores your Personal Mobility Device (manual folding wheelchair, travel scooter, travel powerchair) inside your vehicle at the touch of a button. Connect the docking device, push a button and let your Lifter do the heavy lifting for you!

Power raise/lower and manual operation; docking device for your mobility device is included; no modifications to your personal mobility device or vehicle.

Learn More













Harmar's AL215 is an efficient and economical solution for transporting smaller, lighter power chairs and scooters. Powered lifting and manual rotation helps load the mobility device. An offset post allows the mobility device to be safely unloaded to the side of the vehicle. Other convenient features include adjustable base and arm height with boom arm strap. Includes weather-resistant hand control.

Smaller vehicle space? New EZ-Detach Seatback accessory converts power chairs to a lower profile to fit more easily into small cargo areas. Includes easy-turn handles, weight-distributing handle bar for easy removal and replacement.

Learn More






Harmar's AL225 is an innovative boom style lift with a medium capacity, offering an economical version of the heavier-duty AL425. Without sacrificing quality and safety, the AL225 is value-engineered for use with lighter power chairs and scooters. Power lifting combined with power rotation makes loading and unloading the mobility device an effortless task. Smaller vehicle space? New EZ-Detach Seatback accessory converts power chairs to a lower profile to fit more easily into small cargo areas. Includes easy-turn handles, weight-distributing handle bar for easy removal and replacement.

Learn More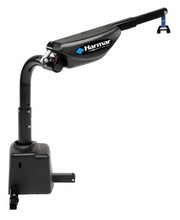 The AL425 is Harmar's premier inside, boom-style lift, offering a 400 lbs. capacity. From its visually pleasing appearance to its highly adaptable design, the AL425 sets a new standard for inside lifts. Fully powered lifting and rotation, coupled with an optional wireless remote, make the AL425 the easiest to use and install inside lift in the industry. It is the ideal solution to stow a power chair or scooter inside a van, truck or SUV.

Smaller vehicle space? New EZ-Detach Seatback accessory converts power chairs to a lower profile to fit more easily into small cargo areas. Includes easy-turn handles, weight-distributing handle bar for easy removal and replacement.

Learn More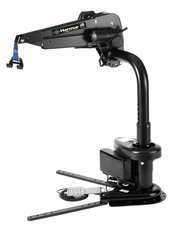 The AL435 adds a powered boom with 12" of additional reach required to clear the rear bumper of larger vehicles, as well as handle the largest possible power chair or scooter into the smallest vehicle openings. The AL435 offers the ergonomic hand control and two wireless key fobs. More versatile and flexible than any other inside van and pick-up truck lift on the market today. Adapts to most mini-vans, full sized vans, SUV's and pick-up trucks. Fits other specialty vehicles such as the Chrysler PT Cruiser.

Smaller vehicle space? New EZ-Detach Seatback accessory converts power chairs to a lower profile to fit more easily into small cargo areas. Includes easy-turn handles, weight-distributing handle bar for easy removal and replacement.

Learn More







Pride Mobility Backpacker Plus Inside Scooter/Wheelchair Lift


Easy to install an use, the Backpacker® Plus Interior Platform Lift features a pre-assembled single piece
platform that you can drive your scooter or power chair on or off from either direction.

Enhanced construction and a fresh new look give the Backpacker® Plus the quality you expect and
deserve from Pride

® Lifts and Ramps.
Pride Mobility Backpacker AVP Inside Scooter/Wheelchair Lift


Now you can easily take your mobility device on the road in your sport utility vehicle with the
Backpacker®
AVP
from Pride® Lifts and Ramps. It's the ultimate solution to lifting your powered mobility device into your vehicle, engineered specifically to be a perfect fit for a wide variety of popular vehicles including SUVs.
Like all Pride Lifts, the Backpacker AVP features all-steel construction and a protective finish, along with an industrial rated 12 volt motor and battery pack, and easy-to-use controls to combine rugged durability with safe, simple and reliable operation.
Pride Mobility Olympian AutoLift


The Olympian AutoLift is strong, agile and aesthetically pleasing. Highly adjustable with sophisticated engineering, it fits most vehicles and is easily removed and transferable.

The Olympian AutoLift is available in two models: a 260 lbs. weight capacity and a 440 lbs. weight capacity.

Bruno Inside Lift Products
Harmar Inside Lift Products
Pride Mobility Inside Lift Products
Please call for our current wheelchair/handicap van inventory.