Vehicle Left Foot Accelerator Pedal
MPD/Veigel Electronic Left Foot Accelerator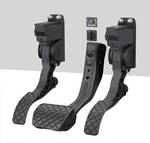 One will find a secure and unsurpassed comfortable solution with the Veigel Electronic Left Foot Accelerator. It is perfectly suited for various drivers.

Left Foot Accelerator and the original pedal are connected via a secure electronic device which prevents unintentional switch during the drive. The inactive pedal can be fully passed through to use the fully the available space.
MPD Veigel Brochure





Please call us for our current wheelchair/handicap van inventory.