Scooters/Power Wheelchairs

As a family-owned and -operated company, Golden Technologies is proud to be the world's leading manufacturer of luxurious lift and recline chairs. We take great satisfaction in the superb craftsmanship and lasting durability of all of our growing lines of Lift Chairs, Power Wheelchairs and Scooters. We use only the highest quality components to give you the ultimate in comfort, convenience and style — with minimum maintenance.
Golden's products set the pace in our industry for performance, convenience and comfort, because they all begin with superior materials, designs and craftsmanship. And because we never lose sight of what our products mean to our customers.
When you take a Golden lift chair, power wheelchair or scooter into your home, you gain a sense of independence, mobility, freedom, accomplishment, and belonging. People trust us, and we are committed to doing everything we can, every day, to live up to those high expectations.


Offering tight indoor maneuverability and smooth outdoor performance, Golden's popular compact Buzzaround Lite scooter was made for you. Now standard with a Delta tiller with a wraparound handle and a larger, more comfortable seat, its "Pop! Pull! Push!" wireless disassembly makes transporting easy. As your mood changes, you can change the look of your scooter with our three sets of snap-on shroud panels in Red, Blue and Sahara.
The all-new Buzzaround XL offers a 300 lb. weight capacity, a generous seat size and completely wireless disassembly. Available in Red and Blue, the XL comes standard with a Delta tiller for easy steering, and a battery charging port is conveniently located on the tiller under the control panel.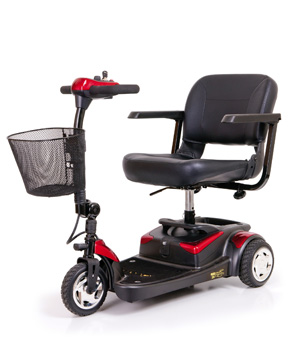 Golden's popular compact scooter is now even better! We've replaced the standard seat to offer you a more comfortable, larger 17"x17" seat standard, as well as a more comfortable armrests for longer rides. The improved Buzzaround Lite also features a standard wraparound Delta tiller and a new control panel design with a backlit battery gauge; a larger speed knob; a more convenient key location; and a horn button that's easier to access.
With the Buzzaround Lite, you can still enjoy many of the same features that made it so popular, including the easy, three-step disassembly process (simply pop off the seat, pull out the battery pack and push the frame apart); a 250 lb. weight capacity; a top speed of 4 mph; automobile-style carpeting on the foot deck; and three sets of interchangeable shroud colors in Red, Blue and Sahara at no additional charge.
The Golden Avenger — a four-wheel, heavy-duty scooter — provides an impressive blend of rugged outdoor maneuverability while giving a smooth, comfortable ride over a variety of nature's most challenging terrains. Durable and stylish, the Avenger includes a standard front basket, a full lighting package and an extra roomy seat with an adjustable headrest. If power is what you need, look no further than the Avenger. Featuring a 500 lb. weight capacity, the Avenger uses two NF-22 batteries that provide a range of up to 18 miles between charges.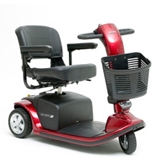 Features & Benefits
9 inch wheels and compact overall size for enhanced maneuverability
Exclusive one hand, Feather-touch disassembly
Full complement of advanced standard features like exclusive low-profile tires, backlit battery gauge, and wraparound delta tiller
Warranty Information
3-year limited warranty on frame, seat frame
1-year limited warranty on electronic components, drivetrain
Six month warranty on batteries
Auto-latching lockup mechanism permits frame separation with only one hand

Auto-connecting front to rear cable

Includes 3 sets of easily changeable colored panels in 3 exciting colors - red, blue and silver

Front frame-mounted seat post offers maximum stability

All new frame design easily disassembles into 5 super lightweight pieces for convenient transport and storage

Modular design for serviceability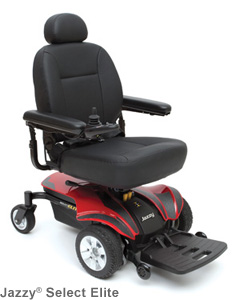 Features & Benefits
New Jazzy® Armor™ includes shroud and controller guards to protect against daily wear and tear
Red or blue color-through shroud
Black high-back seat with removable, replaceable back and seat covers
Dual-layer powder coated frame for increased durability
Larger foot platform
40 amp, PG GC 3 controller
Built with ease of service in mind
Extended 13-month limited warranty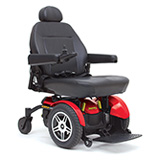 Features & Benefits
Enhanced 450 lbs. weight capacity
Front-wheel drive design for excellent maneuverability
14" knobby tires and optimum weight distribution provide superior traction
Red or blue color-through shroud
Larger foot platform
60 amp controller
Built with ease of service in mind
Extended 13-month limited warranty
Please call us for our current wheelchair/handicap van inventory.