Wheelchair Platform Lifts
Ricon KlearVue Wheelchair Lift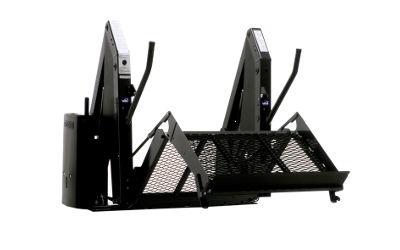 The Ricon Klearvue™ wheelchair platform lift utilizes a horizontal folding design to eliminate dangerous blind spots, which leaves an unobstructed view for full-size mobility van drivers as well as passengers.

The compact design also means no vehicle modifications must be made to the roof or door, even when a long platform is necessary for a large wheelchair. Ricon Klearvue™ wheelchair lifts can accommodate a 51" platform in a 48" door.

The Ricon Klearvue™ wheelchair platform lift is ideal for full-size wheelchair van conversions without a raised roof or door. Because the platform lift folds into itself horizontally, less vertical door space is necessary for operation.

Optional power remote controls, internal swing door operators, and sliding door operators are available for KlearVue™ full size van lifts. These items installed in a full size accessible van make it completely wheelchair accessible. The KlearVue™ from Ricon has a 5 year limited warranty.

Advantages:

Automatic inboard/outboard rollstops
Stable and compact when stowed
Permanent, no-lube bearings at all major pivot points
Powerful hydraulic pump
Built-in manual back-up system
Ricon Wheelchair Lifts Brochure
Please call us for our current wheelchair/handicap van inventory.