Wheelchair Platform Lifts


Ricon personal mobility products set the industry standard for innovation, reliability and ease-of-use. From the fold-in-half high-visibility KlearVue lift to the space-efficient Clearway model to the ultra lightweight and strong Uni-Lite, Ricon accessibility products are designed for 'DOT PUBLIC USE" vehicles and comply with all applicable regulations.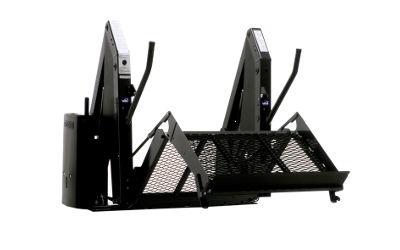 The Ricon Klearvue™ mobility platform lift utilizes a horizontal folding design to eliminate dangerous blind spots, which leaves an unobstructed view for full-size mobility van drivers as well as passengers.
The compact design also means no vehicle modifications must be made to the roof or door, even when a long platform is necessary for a large wheelchair. Ricon Klearvue™ wheelchair lifts can accommodate a 51" platform in a 48" door.
The Ricon Klearvue™ handicap platform lift is ideal for full-size wheelchair van conversions without a raised roof or door. Because the platform mobility lift folds into itself horizontally, less vertical door space is necessary for operation.
Optional power remote controls, internal swing door operators, and sliding door operators are available for KlearVue™ full size van lifts. These items installed in a full size accessible van make it completely wheelchair accessible. The KlearVue™ from Ricon has a 5 year limited warranty.
Learn More
The Clearway's fully automatic split platform folds up and out of the way at the push of a button leaving the doorway clear, while its strong all-steel frame and powerful hydraulic pump allow quick reliable operation. Handrails on the frame provide increased comfort and security.
Exclusive split-platform provides clear access to vehicle interior
Powerful hydraulic pump ensures smooth, stable operation
All-steel frame features handrails for increased comfort and security
Stable, non-skid platform with automatic inboard and outboard rollstops
Pre-lubricated bearings at all major pivot points for long service life
High gloss, polyester powder coat finish resists corrosion
Built in manual backup system
5 year limited warranty**
***One year for parts and labor; five years on hydraulic components

.

Learn More





The Ricon Reliant wheelchair lift provides dependable automatic access and its efficient, compact design maximizes valuable interior vehicle space. The Reliant lift is easy to maintain, the steel frame is built to deliver years of service and the patented Sto-Loc™ design assures a quiet ride by securely locking the lift platform in the stowed position.
Automatic inboard and outboard rollstops
Quiet, secure and smooth operation
Welded all-steel frame
Non-skid platform
Built in manual backup system
Permanent no-lube bearings at all major pivot points
5-year limited warranty*
*One year for parts and labor; five years on hydraulic components

.

Learn More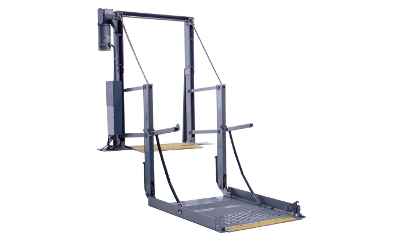 The Ricon UNI-lite™ platform handicap lift offers two distinct advantages over competing models on the marketplace. First, the UNI-lite™ is a lightweight electric mobility lift (other lifts are commonly hydraulic powered). Second, the UNI-lite™ is constructed of lightweight aluminum, creating less wear and tear on the suspension in a wheelchair van.
Like all VMI platform wheelchair lifts, the UNI-lite™ combines strength and reliability with features that provide convenience and easy use. The Ricon UNI-lite™ also comes with a 5 year limited warranty.
Lightweight aluminum construction
Extra smooth, quiet powerful electric motor
Powered rollstop with mechanical latch
Adjustable to fit most doors
Compact design with large platform
5-Year limited warranty

.

Learn More





The Ricon Slide-Away™ platform wheelchair lift features a revolutionary design which offers the strength of a dual post hydraulic lift, but the flexibility of a single post lift.
When using the Slide-Away™ handicap lift, the sliding second tower travels toward the front of the full-size mobility van. When not in use, it stows toward the rear of the vehicle, which leaves the side door unobstructed. This means able-bodied passengers can get in and out easily, and the front passenger seat can retain normal functionality.
Learn More
Ricon Wheelchair Lifts Brochure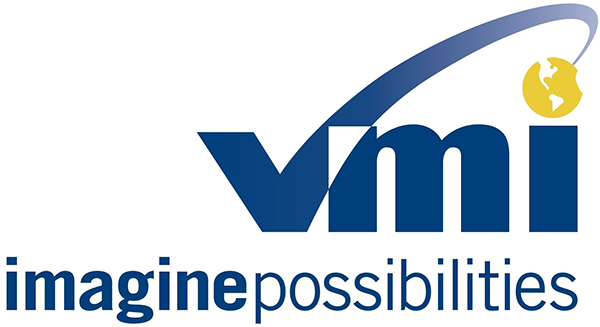 Using the industry's best-in-class manufacturing facility, VMI delivers the highest quality platform lifts for vans, designed to meet a variety of needs and budgets. VMI wheelchair platform lifts have been developed for optimum strength and convenience and feature the most current technology available to ensure your complete satisfaction. VMI platform wheelchair lifts can make almost any full-size van or smaller global van a handicap accessible van.
The
Fiorella F500
handicap lift
is the newest
mobility platform lift
in the VMI line of mobility transportation solutions. Fiorella has manufactured
wheelchair lifts
for over 15 years and distributes in 47 different countries.
This Fiorella
handicap platform lift
features a unique design that is attuned to the specific needs of disabled individuals. Customer experience is the primary focus behind the engineering and creativity that goes into each and every F500
platform mobility lift.
Learn More
VMI Fiorella Brochure
Please call us for our current wheelchair/handicap van inventory.