Q'Straint QRT 3-Series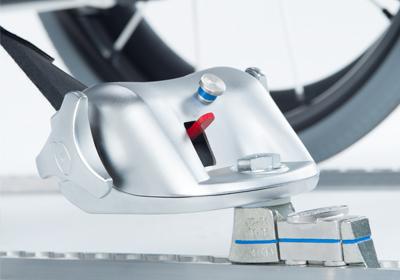 Introducing the QRT-3 Series Wheelchair and Occupant Securement System.
The first 4-point, heavy duty, fully automatic retractable tie-downs designed, engineered and built to perform to the upcoming WC18 standards. More inpressively, the new QRT-360 meets thes increased standards years ahead of their effective date in 2015.





Self-Tensioning
No manual tensioning required. Retractors automatically take up "slack"
Automatic, Self-Locking
Allows easy, on-handed hook-up of wheelchairs
Positive Lock Indicator
Clearly indicates when fitting is locked (L track application only)
Stronger than all other retractors
Energy-absorbant steel frame, new high strength 58mm webbing, fine adjust self tension from 25 high strength teeth
Compatiblity
Shortened footprint allows flexibility to accomodate larger wheelchairs; compatible with the widest variety of wheelchairs and scooters;
J Hook
Reduces twisting of belts and ensures proper securement
Foot Release Lever
Redesigend easy-release eliminates the need to bend down
Dual Tensioning Knobs
Provide additional tensioning, if needed
Interchangeable
Eliminates confusion, no right, left or rear locations
Please call us for our current wheelchair/handicap van inventory.