Roll A Ramp General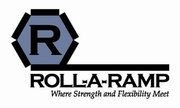 Roll-A-Ramp can be configured to meet your exact needs. Ramps can be built to ANY length needed. Support stands are also available for longer ramps. Ramps start at 3' and are custom built to the length needed. Roll-A-Ramp® is the only ramp company offering ramps in both even and odd lengths.

Wheelchair/Scooter ramps, portable ramps, van ramps, RV & trailer ramps are just part of the ramps available from Roll-A-Ramp.


Roll-A-Ramp Vehicle Ramps Products
Please call us for our current wheelchair/handicap van inventory.