Nor-Cal Wheelchair Vans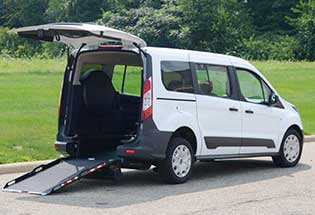 The Ford Transit Connect is a versatile vehicle with the ability to handle a broad range of needs from family adventures to businesses large and small. The Transit Connect Adaptive Van, an ADA-compliant, wheelchair accessible vehicle that is ideal for both private and commercial users, such as assisted living homes, school districts, hotels, and taxi services.

Accessibility on Demand
The NCV Transit Connect Adaptive Van features an ADA-compliant lowered floor and an innovative new rear-entry fold flat ramp. The vehicle seats up to five adults and one wheelchair user and has the ability to adapt to accommodate multiple combinations of people and cargo. When the vehicle is not being used for the transportation of a wheelchair user, the ramp (with 800 lb capacity) conveniently stores flat, creating a flat floor surface for easy loading of luggage or cargo.
Ramp Lays Flat to Adapt to Your Needs!
| | | |
| --- | --- | --- |
| | | |
| The innovative ramp stows flat, creating a surface for you to store cargo such as groceries or luggage, just like a standard vehicle. | The ADA-compliant ramp folds out allowing a passenger in a wheelchair to board the vehicle. | Once the wheelchair user is secured, the ramp can be folded up into the vertical position and you're ready to go! |

With 30 years of experience in the Mobility Industry, Nor-Cal Vans (NCV) offers Ford commercial shuttles and wheelchair accessible vans with a focus on quality and service. As a certified Ford QVM (Qualified Vehicle Modifier) and Pool Account, our products are designed to meet the rigorous quality and safety standards we strive for in every product.
Nor-Cal Vans has developed a number of options for the full-size Ford Transit, including the NCV Transit Bus and multiple seating configurations. We also offer the Transit Connect Adaptive Van- an ADA ramp system which conveniently stores flat, creating a flat floor surface for easy loading of luggage or cargo. All of Nor-Cal Vans' innovative designs have been compliance tested for Federal Motor Vehicle Safety Standards (FMVSS) and California Air Resource Board (CARB) Emission Standards and come with a 3 year/36,000 mile conversion warranty
Transfer into the Driver Seat of the new NCV Personal Mobility Transit
For over 40 years the Ford Transit has been a leader in the European van marketplace. Now made in the United States of America, Nor-Cal Vans offers a Transit conversion for the everyday wheelchair user. Increased fuel economy, maximum interior room, towing capabilities, and double the weight carrying capacity of most modified minivans- the NCV Personal Mobility Transit is an excellent full-size choice.
Standard Features
Side or rear entry wheelchair lift

Flush-mount L-track

Reinforced shoulder belt anchorage point for wheelchair position

Non-slip commercial flooring and subfloor

Floor reinforcement for wheelchair lift and seats
Driver Options
B&D Transfer Seat

Power slider door

Remote entry with interior-exterior switching

Power parking break
Additional Options
Running boards

Darkened wall treatment

Fold-down sofa seat, manual or power

B&D Passenger Transfer Seat

Lane-keeping alert with driver alert

Dual USB port charger

Overhead reading lights at rear bench seat

Entertainment system

Upgraded sound system

Window tinting
Sample Floor Plans
See Transit Dimensions Chart for more details. Seating configurations not to scale.
In our effort to provide the safest and most reliable conversion in the industry, Nor-Cal Vans is a member of the following:
Ford Qualified Vehicle Modifier (QVM) for adaptive mobility vehicles.

National Mobility Equipment Dealer Association (NMEDA) member, the Association of Driver Rehabilitation Specialists, the Adaptive Driving Alliance and the Mobility Alliance.

Is an approved manufacturer for many State Department of Rehabilitation programs, the Veterans Administration and many Workers Compensation Insurance programs.
Looking to make your Ford Transit wheelchair accessible? With over 30 years of experience in the mobility industry, Nor-Cal Vans offers several options to make the Transit meet ADA standards.
Features

Rear or side-entry wheelchair lift (up to 1000lbs)

Wheelchair lift Interlock (ADA & FMVSS compliant)

Non-slip commercial flooring with reinforced subfloor in wheelchair securement area

Manual wheelchair tie-down systems and shoulder lap belt

Seating up to 14 passengers

Up to 38% better fuel economy than other shuttle bus chassis

Options

Fold-Away seating

Running boards

Power slider door and step

Bus door entry

ABS cargo interior

Escape window or roof hatch

Paging system

Camera surveillance system

Front destination sign

Auto retractable wheelchair tie-down system

Gurney securement
Now available with Curbside Options




Curbside Access Transit


Nor-Cal Vans offers the Curbside Access Transit which features a fixed side-entry wheelchair lift and a stairwell in the front passenger area to allow ambulatory passengers to enter from the curbside.
Shift-N-Step
Nor-Cal Vans also offers the "Shift N Step" dual entry system allowing operators the ability to use the Ford OEM van chassis and have a side-mounted 34" wide wheelchair lift installed. When you want to shift the lift so ambulatory users can access the side entry position, the driver simply activates the "Shift N Step" system and the wheelchair lift gently glides rearward allowing for ambulatory access.

Please call us for our current wheelchair/handicap van inventory.