Milford Person Lift Into Vehicle Or Home Seat

The Milford Person Lift is designed to lift a person, safely and without putting strain on the carer/operator or person being lifted. The lift is not only used for your vehicle but along with the Milford Mobile Base you can now use this in the home, your friends home, on vacation and even in a camper or RV.

Do you have confined areas where the base is not suitable? Then the Milford Wall Bracket solves the problem.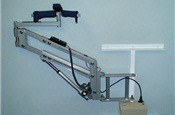 Please call us for our current wheelchair/handicap van inventory.