Outside Scooter & Wheelchair Lifts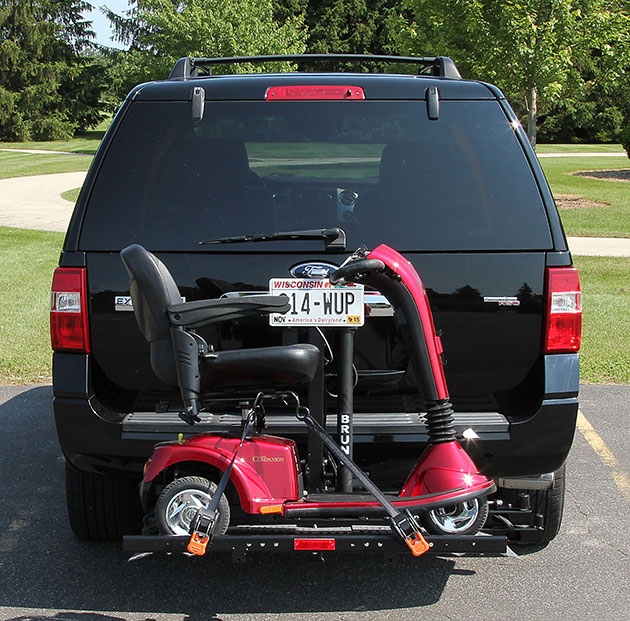 This easy to use product lifts and stores your unoccupied scooter or powerchair outside your vehicle at the touch of a button. Simply roll your mobility device on the platform from either side, hit a button, and let the Out-Sider do the lifting for you. Scooters and powerchairs are automatically secured when the lift is raised. Retractable belts are also available for securement.
Learn More

This incredible product lifts your unoccupied manual wheelchair, scooter or powerchair from the front door of your pickup truck and stores it in the bed for transport, all at the touch of a button. Simply connect the docking device, push a button on the hand-held pendant, and let your Out-Rider do the heavy lifting for you!
Learn More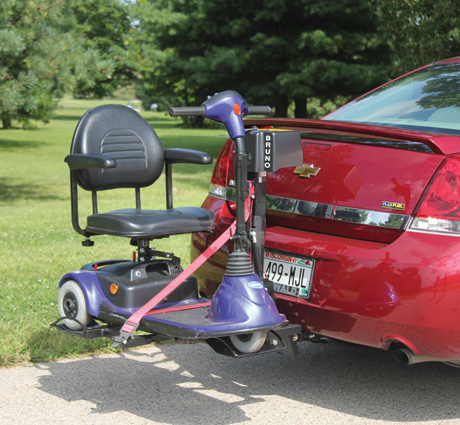 The Out-Sider Micro lifts your 3-wheel travel scooter with the touch of a button. The light-weight and low profile design minimizes rear vision obstruction. Power raise/lower makes lifting your travel scooter easy. Exclusive "lift mast angle adjustment" allows the installer to nest the Out-Sider Micro tight against the rear of the vehicle. Swing Away options available for Minivans, SUV's, CUV's, Pickup Trucks and full size vans.
Learn More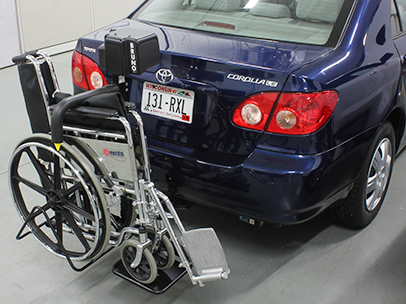 The Back-Saver is a Hitch-mounted Lift for Folding Wheelchairs. Bruno's Back-Saver lifts and secures your folding manual wheelchair with the touch of a button. Simply roll the wheelchair onto the platform, turn the key and push a button to be on your way!
Learn More
Harmar AL160 Profile Scooter Lift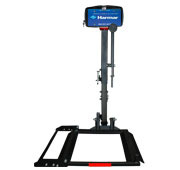 The streamlined design of the AL160 Profile Scooter Lift features an open platform design with a simpler, smaller silhouette. It creates an understated presence on the vehicle and, when folded, permits greater visibility out of the rear window. The automatic hold-down foot secures virtually any power scooter with a wheelbase between 30" and 42" with no modifications, and accommodates even large scooters up to 350 lbs.
Learn More
Harmar AL100 Universal Scooter Lift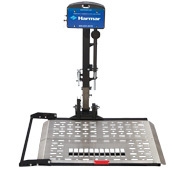 The AL100 Universal Scooter Lift is today's most popular outside scooter lift. The unique hold-down foot automatically secures virtually any scooter without any necessary scooter modifications. This fully automatic lift offers simple, nearly effortless operation and a hefty 350-pound lifting capacity
Learn More
Harmar AL300 Fusion Lift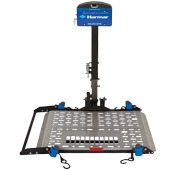 The AL300 Fusion Lift offers the convenience and versatility to carry a power chair or scooter with one lift. Compatible with virtually all scooters and power chairs, safely secures the mobility device with four, easy-to-operate, Q'Straint retractors. When empty, the platform automatically folds up and out of the way with the flip of a single switch.
Learn More
Also available: AL300HD Fusion Lift with heavy-duty 400 lbs. capacity!
Harmar AL500 Universal Powerchair Lift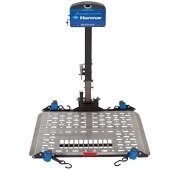 Harmars

durable, American-made AL500 Universal Power Chair Lift is the worlds most popular outside platform lift. The AL 500 is easy to operate and built to last for years of trouble free use.The universal design safely transports the power chair without making any chair modifications.
Also available: AL500HD Universal Power Chair Lift with heavy-duty 400 lbs. capacity!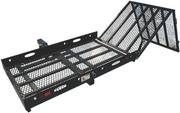 Harmar Universal Outside Carrier is a simple, cost-effective and fully-manual outside carrier.Its simple design makes it compatible with the most scooters and power chairs--with no chair or scooter modications needed. The folding ramp makes ingress and egress a simple matter. Its low weight and high lifting capacity makes it ideal for those with specialty scooters or chairs.

Please call us for our current wheelchair/handicap van inventory.