Freedom Regained Through Accessibility
Whether you are staying put or on the go, Roll-A-Ramp is less costly than lifts and elevators, permanent wood or concrete ramps – and much more versatile. Our custom platforms allow the ramp to turn at a 90-degree angle.
Typical system may include:
One long Roll-A-Ramp or multiple shorter ramps
Handrails
Platform
Support Stands (long and short available)
Seg Mount Brackets
Quick Releast Pins
Features:
Easy set up and take down – or may stay in place
Stow and go
Rolls up and is portable
Lightweight yet extremely sturdy and durable
Can be confrigured as multiple ramps in one - ask how!
Unconditional 10-Year Warranty
Handrails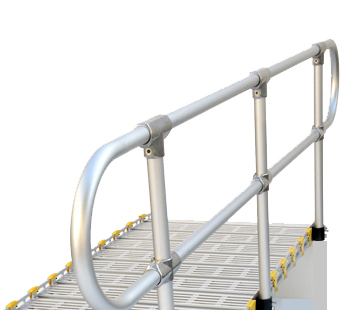 Aluminum handrails are available as an addition to your Roll-A-Ramp®. Ramp handrails work for all sizes of ramps and will add additional stability & security for those who need it. Handrails are also customized to the length you need and can be added to one or both sides of the ramp. Handrails will not rust or corrode in rain and snow.

Roll-A-Ramp® Removable Aluminum Handrails were designed with three factors in mind:
Safety & Security
Durability & Quality
Portability & Ease of Install/Removal.
All Roll-A-Ramp systems are designed around these principles to maintain our high standard of commitment to quality and service to our customers.
Ramp handrails are very easily installed onto your Roll-A-Ramp®, and if needed, removed even easier with a couple simple steps – making your ramp and handrails very easily portable.
Portable & Versatile:
For example, ramp handrails can be put onto your ramp & if you choose to take them off, want to relocate or store the ramp, or need to remove them for getting access to the ramp from the side – no problem. In literally a couple of minutes it's done. It is the quickest system on the market.
Ease of installation:
Patent-pending hook on style brackets use 1 bolt installation. (This is a one-time installation. Ramp handrail brackets remain secured to ramp.)
Ramp handrails are inserted into the brackets – tightened with 1 bolt to secure into bracket.
Removing the ramp handrail is even easier – 1 bolt loosening and rails lift out of brackets.
Features:
All Aluminum Construction
Heavy Duty & Lightweight
Protective Coating – Never rust or corrode
Ease of Installation
Ease of removal for portability
High Quality Bracket construction for unsurpassed strength
Durable enough to last a lifetime